As we wrapped up our celebrations of Kindness Month, a topic that lingered in our minds was the unique connection between animal healthcare workers and pet parents. They're united by their love of each animal, yet in these times of worker shortages and constantly emerging challenges, that relationship can become tense.
Dr. Caitlin Goldhawk of Blenheim Veterinary Hospital has been navigating that landscape since Spring 2020, and recently took time to share personal perspective on professionals who dedicate their days to helping pets—even as their own lives are being upended.
The Other End of The Leash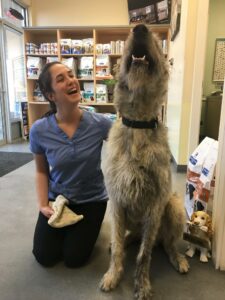 Recently across the province, but more specifically within our local community, a very emotional and polarizing public discussion has centered around the level of care and accessibility of veterinary medicine. As an associate veterinarian, veterinary practice owner, and mother of two small children, I'd like to share perspective on the nuanced ways COVID-19 has impacted the people who care for pets—both professionally and personally—and how changes that some are proposing would impact our already strained staff.
During the global pandemic, the veterinary industry has been uniquely called upon. From day one of the first provincial lockdown in March of 2020, we were deemed an essential service and continued to leave our homes and loved ones each day to go to the clinic. We continued to serve pets and their families while simultaneously learning the new curbside medicine protocols advised by our regulatory body, put in place to ensure safety for our clients and staff.
At every step, we've continued to offer anesthesia, surgery, medicine, dentistry, ophthalmology, dermatology, endocrinology, urology and pediatric care services. During this fast-paced time, the province experienced a shortage of clinical practitioners, while pet ownership was rising dramatically. The world became stressed, emotions ran high, and we began to see a dramatic increase in the number of customer service grievances.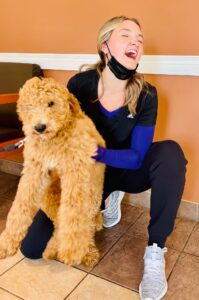 It's fair to say many of us in the veterinary industry have begun to experience mental health challenges. Every day we face an ongoing "new normal." It demands that we practice our craft and deliver services in the face of supply shortages, navigate limitations on which types of cases we can see, and care for more pets overall. Add to that a general population who also feel scared and stressed, and you have a recipe for heightened anxiety and depression.
As with all essential workers, we can't forget that each day our home lives continue in the background, demanding new ways to care for our children—including finding ways to school them—offer support to our loved ones, care for the ill and aged…the list goes on.
At a time when mental health has taken a prominent focus in our culture, how is it just to ask even more of caregivers who have reached our physical and mental capacities? Should we not be wives, husbands, partners, mothers, fathers, friends?
Unequivocally, there is a shortage of clinical practicing veterinarians in Ontario. What some may not consider is that there are many career opportunities and paths for veterinarians in Ontario aside from clinical practice. Some examples of these careers include teaching, government/regulatory work, research, pharmaceuticals, nutrition and remote telemedicine and triage services. It's my belief that these jobs have become—and will continue to be—more enticing and sought after in the face of ever-increasing customer service grievances.
Repetitive online slander and personally targeted hateful reviews are not easily forgotten. Public vitriol in news publications and op-eds attempting to dictate the specifics of our work-life balance are hurtful and damaging. Conversations on social media can be very frustrating and unproductive in their one-sidedness.
It's important to state here that due to confidentiality concerns and out of respect for our patients and their caregivers, we typically cannot openly speak our truth. There's no opportunity to explain nuanced situations in our industry, nor defend our choices and actions in providing care.
If this culture continues, more and more veterinarians will continue to leave clinical practice to protect their wellbeing. Attracting associate veterinarians to such a climate will be a greater challenge.
During a provincial veterinary shortage, 24/7 emergency medicine is difficult to provide properly. Emergency equipment of varying sorts needs to be readily available, along with staff who are qualified and trained to use it.
Asking a veterinarian and registered veterinary technician who may have worked all day—and likely will be working the following day—to be alert all evening and on-call throughout the night to treat emergencies puts the health of their patients in danger. We want animals to have the best medical and surgical care possible. Due to current staffing shortages, we believe referring emergencies to facilities offering triage, emergency service and hospitalization during our out of office hours is best.
Within our community we must recognize that many clients have differing levels of patient care standards. Some clients may wait a week to have their pet's limp evaluated and treated, where others feel that several hours of lameness is too long. It is unavoidable then, that clients and veterinary teams will sometimes have differing definitions of a true emergency, an urgent care case or an after-hours personal convenience visit.
For members of the public who claim that we don't love the animals, or that we are in this profession for the wrong reasons, I know that observing us at work would quickly change your minds. I form meaningful bonds with my clients and pets that last a lifetime. During every shift, I have the joy of meeting and interacting with four-legged patients of every shape, size and personality. Seeing a pup or kitten grow to become a healthy senior pet who's been loved for their lifetime will always be rewarding. Helping rescue animals trade parasites and hunger for safe, warm houses, where they never miss a meal and are loved each day, is truly fulfilling.
The tasks of fixing, healing or ending suffering are meaningful and important to me. Clearing up itchy skin, stopping seizures, mending wounds, delivering pups, resolving a blockage, removing toxins—well, it's no mystery why we were deemed an essential service. When we succeed, the feeling is truly remarkable. Pets have brought us comfort and purpose in the frightening and stressful pandemic realities, and we do not take our responsibility of caring for them lightly.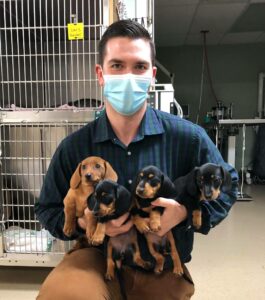 I would like to extend my heartfelt gratitude to the many clients who express their appreciation and respect the rules and policies we've had to implement without complaint. Your support and words of encouragement are so appreciated and continue to lift our veterinary teams daily.
In closing, I challenge the general public to be kind and respect the mental health of those working tirelessly through what feels to be a continued field of criticism. Please be responsible pet owners and take some accountability in having a current and active relationship with your veterinarian.
An industry that is continually being publicly shamed, poorly reviewed, and filled with regulatory body complaints is still operated by human beings who each day get up, go to work to serve the public and have a passion for providing good health care for the pets of their practice. Eventually, if the narrative doesn't shift, we are going to corrode the enthusiasm from our practice and reduce the mental health and wellbeing of those who work in this industry. 
—–
Exploring conflict takes courage, and we appreciate Dr. Goldhawk's vulnerability in shining a light on the challenges many caregivers face. We hope that discussing these tough topics might spark greater patience and understanding all around.
At NVA Canada, we put our people first, offering resources to support your emotional health and well-being. You're not alone—please don't hesitate to reach out for help.
You can also find helpful discussions and resources here:
https://www.canadianveterinarians.net/veterinarian-health-and-wellness-resources